NovaMesh and NovaLyft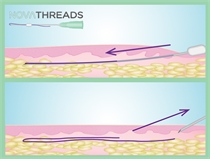 NovaMesh and NovaLyft are both non-surgical alternatives to the traditional facelift. Both procedures utilize the technology of Nova Threads, hypodermic needles that are loaded with a safe synthetic absorbable surgical suture (PDO) that your skin fully absorbs within 4 to 6 months.
The NovaMesh procedure is viewed as a preventative procedure. It creates a mesh or #hashtag pattern under the skin. This tightens the skin naturally from within, supporting the tissue and ensuring the continued natural lift of the face. While NovaLyft lifts the sagging skin repositioning it for a smoother, more youthful look. The skin will then build new collagen securing the lift and absorbing the Nova Threads.
Before and Afters